Authentication slip from Westinghouse found inside the book.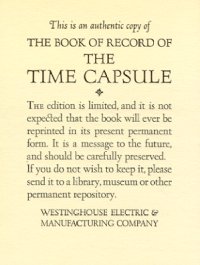 I have a copy of The Book of Record in my personal collection. Obtaining one became a quest after being able to read and study The Book of Record in the World's Fair collection of a friend. It's not a copy. It is one of the original 3,650 books printed by the Westinghouse Electric & Manufacturing Company and distributed to libraries and institutions around the world. Mine was one of the 2,000 that were printed on hand-made paper and stamped with aluminum. My friend's is bound in royal blue buckram and stamped with genuine gold. Both were surprisingly easy to find. I used an on-line book service and paid a paltry $25 for my copy which came from an old bookstore in Superior, Wisconsin. My friend obtained his from the on-line auction site eBay. I know of others who have obtained personal copies for their collections as well.
I treaure my book. I am amazed at the great care Westinghouse took and the thought they gave to develop the Time Capsules and The Book of Record and understand the hope they had that it would survive (in some form) into the 70th Century. I will pass my book on someday to an heir or to someone that I may find who shares my love of history and will value the book as much as I do. It is my hope that they, in turn, will pass it on to their heirs or assigns. I feel that fate has entrusted me with this "duty."
That may sound a bit silly. I'd like to think it is the right thing to do, for history's sake.
I don't write this to gloat about owning a rare book. Not at all! I write it because I think it's kind of sad that I was able to acquire a copy for a personal collection. Because that means that the plan to pass knowledge of the Time Capsules along to history may already be failing. The books are being discarded. Never having seen much, if any, circulation over the years the criteria for remaining on the shelves and in the library's collection wasn't met. Personnel at the institutions to which they were sent didn't realize the book's purpose and significance. So they've ended up in old book stores and on-line auctions and, quite probably, the dumpster. How can The Book of Record be secured for the people of 50 centuries from now if the institutions to which they were entrusted cannot manage to keep them even for 70 years?
The section on the Westinghouse Time Capsules and The Book of Record here at nywf64.com is meant to give you knowledge of the Time Capsules: their purpose, their location, their contents and their creator's hope to pass knowledge of our civilization on to the people of 5,000 years hence. Remember what you've read. Print a copy and give it to your kids to read. Pass your knowledge of the Time Capsules on to others. Perhaps, in this small way, we can all help to preserve this remarkable legacy to the future.
It's the right thing to do, for history's sake!