EXHIBIT

U. S. Post Office

AUTHORIZED REPRESENTATIVE

Mr. Frank Viola, Chief Engineer

N. Y. Regional Post Office Dept.

Main Post Office

New York 1, N. Y.

PE 6-7700

CONTRACT SIGNED

May 16, 1963

LOCATION

Block 14; Lot 6

North of Block 4, on the perimeter of the Industrial Area

AREA

45,287 Sq. Ft.

ARCHITECT

Mr. Louis Barberis

7 Middle Lane

Westbury, L.I., N.Y.

516 ED 4-0136

CONTRACTOR

George A. Fuller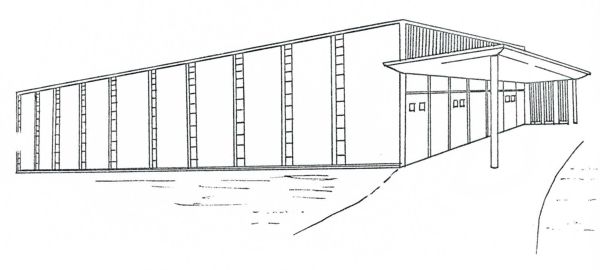 SOURCE: 1964 World's Fair Information Manual
FEATURES

The World's Fair Post Office, designed both for exhibit and operational purposes, will serve the postal needs of exhibitors as well as visitors from all parts of the world. The latest mechanized equipment currently in post offices around the country will be installed to handle a mail volume equal to that of a city the size of Passaic, New Jersey, or Kansas City, Kansas.




It will have inside and outside lobbies with ample counter space in each for visitors to write messages. Clerks, fluent in foreign languages, will be stationed at separate windows for the benefit of visitors from other lands. Vending machines will be set up in the outer lobby to dispense stamps and other postal supplies for those not requiring window service.




The most unusual feature, will be a glass enclosed spectator's gallery from which visitors can view the entire processing of incoming and outgoing mail. The gallery will consist of a 110 foot ramp, rising gradually to a height of nine feet, running across the width of the station for 85 feet and then down on the other side to the floor level. As groups of visitors file through the building, tape recordings will describe the functions of the equipment below. The machines on the workroom floor include a large volume letter sorter, four small single position letter sorters, a high speed face canceller, up-to-date mail separating equipment to feed the machines and a tray transport system to move the mail efficiently around the workroom.




The office will remain open during regular business hours at the Fair, and lock box service will be available on an around-the-clock basis. In addition, there will be 29 locations where mail can be deposited and stamps and other supplies purchased from the latest model vending machines.
---
United States Post Office
Source: NY World's Fair Publication For Those Who Produced the New York World's Fair 1964-1965