Fifteen-foot high frescoes depicting the history of Switzerland bring alive the outer walls of the pavilion. Craftsmanship, high style and beauty combine to tempt the visitor who pushes through the swing doors into the pavilion itself.
The pavilion is on the Avenue of United Nations South, close to the center of the miniature Flushing Meadow world.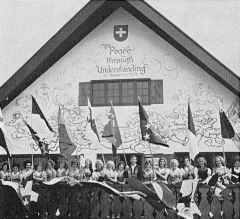 The Swiss engineering industry is also on show in New York. The Swiss Sky Ride, built by von Roll Ltd., actually forms part of the Fair's installations. Its small brightly colored comfortable cabins are in fact one of the main attractions of the Fair and are extremely popular with visitors wishing to have an overall bird's eye view of the central area.