The description of this exhibit from the 1964 Official Guide Book
The description of this exhibit from the 1965 Official Guide Book
The location of this exhibit on the 1964 Official Souvenir Map

SINGER BOWL
This open-air stadium, which hold 15,000, is scheduled for a variety of events - U.S. Olympic trials, folk festivals, Judo and Karate exhibitions, and so on. It is paved in green macadam, has lights for night use, a movable stage 60 feet long and dressing room facilities for 200 performers. The Singer company has a series of displays under the grandstand: the latest in fashions and fabrics, do-it-yourself sewing projects an a representation of Singer products - not only sewing machines, but typewriters, vacuum cleaners and computing devices.

* Admission: free.

SINGER BOWL
Music festivals, sports events and variety shows are held in this open-air stadium seating 15,000.
Under the grandstand, the Singer Company exhibits the latest in fashions and do-it-yourself sewing projects. Sewing machines, typewriters, vacuum cleaners, TV sets, phonographs, computing devices and other products are on display.
¶ Admission: free.
4.26.10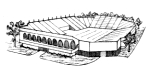 From The Arena to The Singer Bowl to The Louis Armstrong Stadium. nywf64.com takes a look back at the history of one of the Fair's best known legacies.