A vintage Mold-a-Rama machine of the sort millions of Fairgoers used to build their very own souvenir from Sinclair's Dinoland.
SOURCE: Photo © 2007 Replication Devices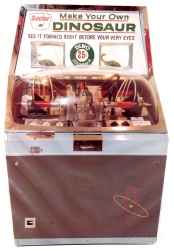 Their popularity is indisputable. Collectors call them Sinclair Dinoland Waxy-Plastic Dinosaurs. The real name for these injection-molded dinosaurs are Mold-a-Ramas. According to Replication Devices of Tampa, Florida, the company that still manufactures and sells the do-it-yourself plastic injection machines that made them, Mold-a-Ramas have been in existence since the early 1960s, starting at the 1964/1965 New York World's Fair and, afterward, traveling the country to various Sinclair Oil Company Gas Stations that hosted the post-Fair traveling exhibit of Sinclair Dinoland.
The Mold-a-Rama dinosaurs were a wonderful and affordable souvenir of the Fair. Then, like now, every kid had a fascination with dinosaurs. And at only 25c a model, kids could take home a souvenir from Dinoland that they made as they watched and yet was easy on mom and dad's World's Fair budget!
A note to collectors: Mold-a-Rama dinosaurs produced at the Fair bear the inscription "1964-1965 New York World's Fair." Mold-a-Rama Sinclair Dinoland dinosaurs continued to be produced after the Fair, but these do not have the World's Fair inscription.