EXHIBIT

Schaefer Center

AUTHORIZED REPRESENTATIVE

Mr. Robert Cooke

Director of Public Relations

The F. & M. Schaefer Brewing Co.

430 Kent Avenue

Brooklyn 11, New York

EV 7-7000

CONTRACT SIGNED

October 25, 1961

CONTRACTOR

George A. Fuller Co.

LOCATION

Block 12 Lot 4

Industrial Area

AREA

45,478 sq. ft.

ARCHITECT

Eggers & Higgins

100 East 42 Street

New York 17, N. Y.

OX 7-3780

DESIGNER

Walter Dorwin Teague Assocs.

415 Madison Avenue

New York 17, N. Y.

MU 8-0100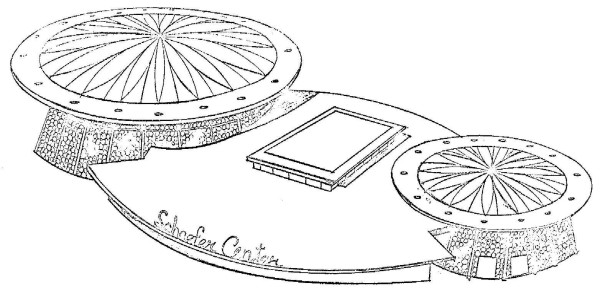 SOURCE: 1964 World's Fair Information Manual
FEATURES

The Schaefer Center will consist of two shallow domed buildings and will be joined by a semi-circular satellite structure. Uniquely designed and constructed with plastics and fiberglas, the Center will weigh a fifth as much as comparable conventional structures. Thus, the structure will be anchored to the ground rather than supported by walls and columns.

The roofs will be air-filled "floating" plastic discs held by compression rings. The walls will be transparent plastic, molded and designed to give a constant reflection of light in all directions. The exterior walls of the individual circular buildings will be supported by "boomerang" shaped slender steel columns. narrow at the base, thickening as they bend outward and narrowing again at the outer edge. They will support a rim, which will keep the inflated roof disc at an even tension. These slender steel columns will anchor the lightweight structure to the ground rather than support it.

The buildings will be surrounded by attractively landscaped gardens rich in foliage and flowering plants. The gardens will also include a free form pond on which there will be aquatic birds.

The entire complex is composed to create an impression of escape into an oasis of relaxed fantasy, cool and utterly detached -- transporting the visitor into an atmosphere of enjoyable relaxation. The color scheme of the entire architectural composition will be red, gold and white.

Area 1: The main entrance to the Schaefer Center will be located on the south side of the smaller of the two inflated-disc structures. Visitors will enter the reception area and be introduced to a series of internally illuminated displays, which will depict the process by which Schaefer Beer is brewed. On the other side of the room, a curved diorama will depict the original Schaefer Brewery which was founded on 19th Street and Broadway in 1842.

In front of the building, and facing the beer garden on the prominent corner, will be a curved bar shaded by a roof. Behind the back-bar will be a glass enclosed refrigeration room where barrels of the Schaefer products will be visible.

Area 2: The second circular structure will contain the Restaurant of Tomorrow. A water fountain, attractively illuminated, will stand in the center of the building. Tables will be grouped around ornamental, illuminated trees, which in the evening will appear to be full of fireflies. The restaurant will seat approximately 300 visitors who will be served from an impressive buffet.

The two air-inflated, air conditioned structures will be connected by a lower level, which will house the food service areas. A visitors' passageway will connect the two domed buildings. This passageway will be spacious and will display, through the use of illuminated transparencies, exciting sports scenes on the inside wall. Floor-length clear glass windows on the outside wall of the passageway will afford a full view of the landscaped gardens to the rear.
---
Schaefer Center
Source: NY World's Fair Publication For Those Who Produced the New York World's Fair 1964-1965