FOUNTAIN

Fountain of the Planets

POOL

Pool of Industry

CONSULTANTS

Hamel and Langer

652 First Avenue

New York, New York 10016

OR 9-9140

CONTRACTORS

Lummus Corp. - general

Waverly Builders - civil

Mulligan & Sons - mechanical

Eastern States - electrical

Johnson Service - pneumatic

Commercial Radio and Sound Corp.- __electronics

LOCATION

Center of Industrial Area

AREA

6-1/2 acres

DESIGNERS

J.S. Hamel

Gilmore D. Clarke

Donald Oenslager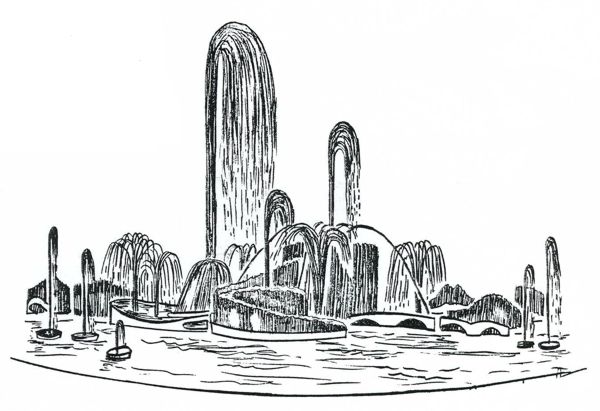 SOURCE: 1965 World's Fair Information Manual
FEATURES

The Fountain of Planets, impressive in size and design, uses more than 400-tons of water ejected through 2,000 nozzles. This is the scene of the popular fountain and fireworks show held nightly during the Fair season and free to Fair visitors. About 10,000 tons of water are recirculated during the show and approximately 150,000,000 candle power illuminates the waters with brilliant and changing color-lighting. Fireworks in the display are fired from 464 mortars. Over 1,000 different patterns of water and light effects are produced.
---
FOUNTAIN

Fountain of Planets

POOL

Pool of Industry

CONSULTANTS

Hamel & Langer

652 First Avenue

New York, New York 10016

__and

Clarke & Rapuano, Inc.

830 Third Avenue

New York, New York 10022

PL 4-1030

LOCATION

Center of Industrial Area

AREA

6-1/2 acres

DESIGNERS

__Fountain Spectacular

Leon Leonidoff - Producer

Jacques Belasco - Music director & __composer

Hamel & Langer - Technical director, __lighting, water and sound

__Fountain Construction

Lummus Corp. - general

Waverly Builders - civil

Mulligan & Sons - mechanical

Eastern States - electrical

Johnson Service - pneumatic

Commercail Radio & Sound Corp. -__electronics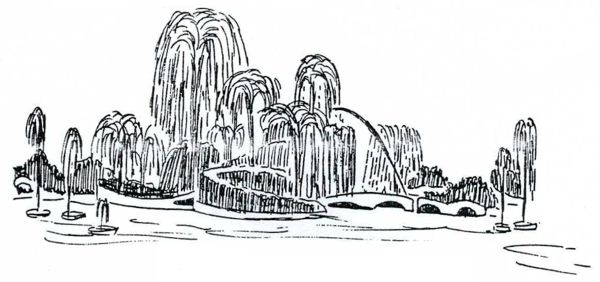 SOURCE: 1965 World's Fair Information Manual
FEATURES

The Fountain Show is a combination of artistry and science in a fountain design of limitless possibilities. The players are electronics, sound, water, lights, colors and fireworks, in a harmonious array of delightful effects. The theme of the show, changed daily may be classical, popular, patriotic, spiritual or any other pre-planned motif. Punched cue cards which set the show in motion, control thousands of regulating relays, valves, switches and other devices involved in the presentation.
---
Fountain of the Planets - Pool of Industry
Source: NY World's Fair Publication For Those Who Produced the New York World's Fair 1964-1965