Pepsi Pavilion Marquee for "It's a Small World"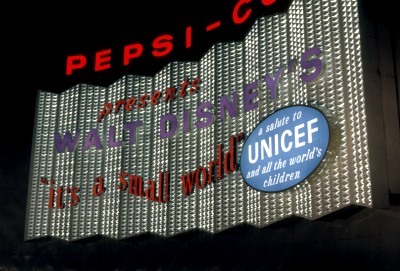 As the 1965 Fair season began to wind down, the Walt Disney Company had to deal with long-term planning for how their four New York World's Fair shows would fit into Disneyland as permanent attractions. The planning for "It's A Small Worlds'" future at the Anaheim park proved the least problematic for Disney since there was no haggling for sponship of the attraction as with General Electric, Ford or the State of Illinois (Bank of America would replace Pepsi as official sponsor of the "Small World" ride in Anaheim since Pepsi already sponsored an existing Disneyland attraction, the Golden Horseshoe Revue). The ride would be brought back to California and would become a new centerpiece for Fantasyland which had not expanded much beyond its original group of "dark rides" that opened with the park in 1955.
However, the elaborate "Tower of the Four Winds" would not be making the trip west. Fantasyland lacked the space to accommodate such a large sculpture and not even its designer, Rolly Crump, had been particularly enamored with it. It had always been seen by Crump and Walt Disney as more of a counteracting force for the less-than-stellar design of the New York show building which Crump considered nothing more than a big, ugly "corrugated barn." With Mary Blair (illustrator for most of the "Small World" figures) commissioned to design an elaborate new facade for the Fantasyland building, the Tower wouldn't be needed to call attention away from the building itself as was the case in New York. Nonetheless, before the final decision was made, Disney made sure that Crump felt leaving the Tower behind was the right decision, going so far as to feign interest in bringing it back to make sure that all of his people, especially Crump, felt strongly about the matter. When the Disney people packed up the sets, dolls, boats and water trough in New York for transport back to Anaheim, the Tower was simply left behind (where rumor has it that it was cut up and dumped into the Flushing river; to this day, there are Fair enthusiasts who dream of dredging the river to find recognizable fragments of this World's Fair landmark).
Mary Blair's elaborate facade for the Fantsyland home of "it's a small world."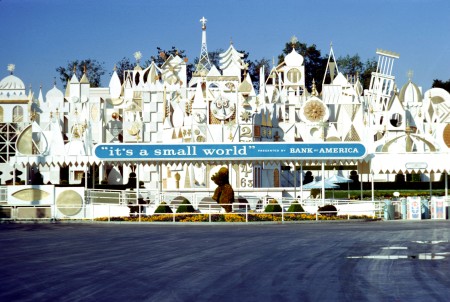 Disney's "Imagineers" made some adjustments to "Small World" that improved the ride in Anaheim. With more space available for the show building (to make room, the Fantasyland Railroad Station and the "Midget Autopia" car ride, for children too small to ride its celebrated Tomorrowland counterpart, fell victim to the wrecker's ball), two sections were added to the ride representing the Islands of the Pacific and the North Pole, while several others were slightly lengthened. A giant thirty-foot-high clock, designed by Crump for the front of the facade, proved to be the most elaborate new touch. Every fifteen minutes guests waiting in line outside to board their boats would hear a loud chime from the clock followed by two dozen animated "children of the world" toys emerging from doors underneath the clock to parade about. In effect, this took the place of the Tower of the Four Winds as an eye-catching feature for waiting tourists to focus upon.
The Disneyland version of "it's a small world" (Disney's official presentation of the name of the attraction is in all lower-case letters) opened on May 28, 1966 in what turned out to be the last new Disneyland attraction Walt Disney would live to see opened (Disney passed away on December 15, 1966 at the age of 65). In typical Disney style, 1,500 visiting dignitaries were invited to an elaborate opening ceremony that saw 10,000 balloons released. Water was imported from sources from around the world in order for "small world" to symbolically live up to its image of providing a journey through the "Seven Seaways of the World."
The popularity of "small world" guaranteed its presence in all future Disney Parks and one can find near-identical versions in Florida, Tokyo, Paris and Hong Kong. The Anaheim version has the distinction of being the original version displayed in New York (indeed, as E-Ticket magazine noted, some set pieces in Anaheim still have their transport tags from New York to Anaheim on them to this day!) It thus represents something special to World's Fair enthusiasts: so long as there are Disney theme parks, "it's a small world" will forever stand as the last surviving attraction from an Industrial Pavilion at the New York World's Fair to endure in its original state.
The reasons for how "small world" has been able to achieve this status are worth noting. Of the four Disney-based attractions at the Fair, "it's a small world" is the most simple in concept, execution and content. It doesn't offer an elaborate style of storytelling like Ford's Magic Skyway or the GE's Carousel Of Progress. Nor does it echo the commercial messages found in those pavilions (indeed, Pepsi's overall visibility in the attraction was so minimal that they later felt their involvement had not worked to their advantage, going so far as to describe the pavilion as "an embarrassment" years later). It certainly has little in common with the more mature themes of American patriotism and greatness found in "Great Moments With Mr. Lincoln."
"it's a small world" at Disneyland in Anaheim, California.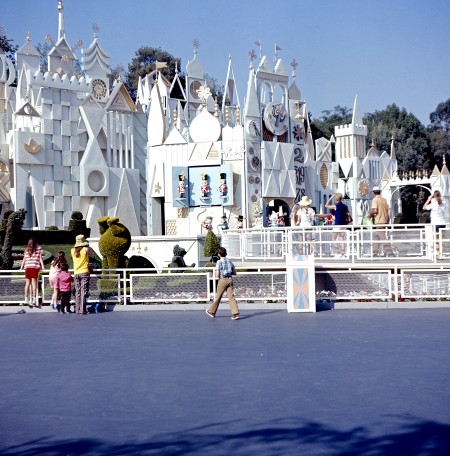 Today, almost 50 years later, "it's a small world" stands alone as the last survivor intact from the Fair (a status earned when the Columbus Center of Science and Industry disposed of the Travelers Insurance "Triumph Of Man" exhibit in 1999). What remains today of the Carousel of Progress and "Great Moments With Mr. Lincoln" are shows so far removed from what they represented at the Fair that they couldn't be described as true World's Fair legacies in that sense. Undoubtedly that's beacuse "small world's'" simple message of children of all nations singing together happily in peace and brotherhood is one that doesn't have to be altered to meet new demands caused by technology overtaking the themes of past visions. It can afford to stay the same. Of course, even "small world" hasn't been immune from the growing cynicism within American society that emerged in the late 1960s and the 1970s which not only sees critics harping that "small world" is too simplistic for its own good, but also has a legion of people who take delight in mocking the Sherman brother's song, chiefly because its never-ending repetitiveness throughout the ten-minute ride can, for a number of people, be quite annoying!
Pretty night view of the clock of the facade of Disneyland's "it's a small world."
Source: Above photos presented courtesy Bill Cotter Collection and are

© Copyright 2010 Bill Cotter, All Rights Reserved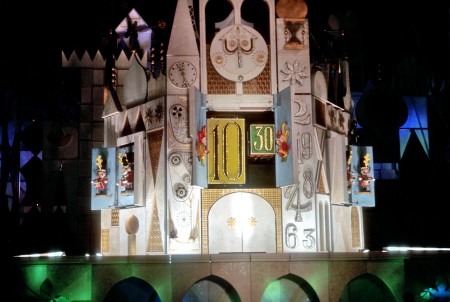 Because the song is such an ingrained tradition of all Disney parks though, no amount of general disdain toward the song will ever motivate Disney from removing it or suggesting that it is time for a new composition. While it does give way on occasion for a special holiday-themed show during the Christmas season, it's only a matter of time before it returns to delight (or torment) Disney park tourists once again. Not even a major overhaul in 2009 that saw the original boats retired and the addition of Disney characters in various places amongst the children of the world can change what has remained constant. The general layout of the boat ride, the World's Fair sets and dolls and the same musical soundtrack that dates back to the Fair are still there for Disney tourists to experience just as Fair visitors did in 1964 and 1965. That fact alone should make all Fair enthusiasts delighted that one survivor from the Industrial Pavilions will remain in that near-original state for a long time to come.
* * *