A CANOPIED KIOSK in the General Cigar Hall of Magic at the Fair houses a unique sports picture, which was shot as it is viewed, looking into action from above as from a helicopter.
Visitors gaze down the sloping pit walls (bell-shaped) as an overhead 16mm sound projector puts exciting action sequences onto the six-foot circular screen. A most exciting sequence shows the free-fall, sky-diving parachutists as they hurtle towards the earth.
Within the brief three-minutes, there's also indoor action of billiards, boxing and golf and a "worm's eye" view as the camera looks upward at a boxer skipping rope.
Patterns in Sport is co-sponsored by SPORTS ILLUSTRATED. It was created from an idea developed by Gordon Auchincloss and George Marck. Filming was by Gerald Productions, Inc., designed by George Canata and under the direction of Jerry Auerbach. Technical equipment was designed and built by Reevesound, under the supervision of William Szabo. Another good Fair idea!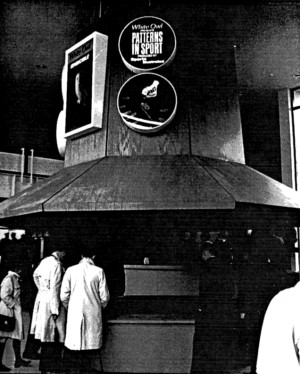 Above: you're watching the "big game" from a hovering helicopter as you look down this picture well to see the "round" movie produced for the General Cigar exhibit area by editors of Sports Illustrated.