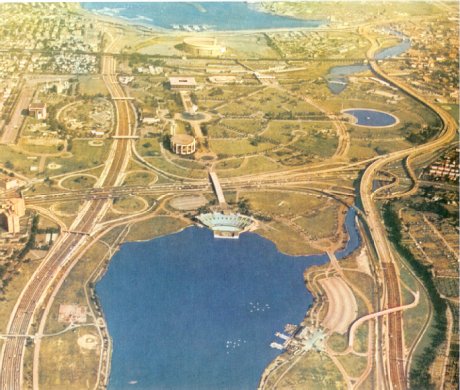 Flushing Meadows-Corona Park has seen decades of successes and setbacks since the Fair returned it to the City in 1967. This aerial photo from the early seventies shows a maturing park. The former Greyhound Pavilion, which occupied a plot just below the T-shaped Heliport, has been razed. The Heliport has become an exclusive banquet and catering facility called "Terrace on the Park." And the zoo has become a reality in the area formerly occupied by the Chrysler exhibit and bordering the Grand Central Parkway. The Fair's "Churchill Center" geodesic dome serves as an aviary.
In the mid-seventies, the City of New York experienced a financial crisis that nearly drove it into bankruptcy. The lack of money for public services had dire consequences for Flushing Meadows-Corona Park. Basic maintenance services were not performed due to lack of funds and cutbacks in city personnel meant a lack of security patrols for the park. As a result, time, neglect and vandalism took their toll -- a situation from which the park is still recovering.
No use was ever found for the Federal Pavilion. It was finally demolished in 1976 after vandals had nearly destroyed it from the inside out. Neglect caused the roof of the New York State Pavilion to become unsafe and it was removed in the mid-seventies. The pavilion today stands neglected and unused, its fate undecided.
The arrival of the US Tennis Association (USTA) at Flushing Meadows in 1977 provided a catalyst for a turn-around. The former Singer Bowl arena became the Louis Armstrong Stadium, initial site for the US Open held annually around Labor Day. After USTA outgrew that facility, a new stadium, the Arthur Ashe Stadium, was erected on the site where the Federal Pavilion once stood; making use of the thousands of piles that were driven there as supports. A casualty of the tennis area was the former Press Building which was torn down in the mid-nineties to provide an off-ramp into the USTA area from the Grand Central Parkway. It had been used since 1967 by the Police Department.
The Amphitheater was another casualty of time and neglect and was demolished in the mid-nineties as well. The building, built for the '39 Fair, saw crowds and smiling faces at the '64 Fair. But it had been closed for years and the Parks Department could find no use for the structure. So, amid howls of protest from preservationists, the structure was demolished.
Flushing Meadows-Corona Park Today is a place of beauty and activity. The park has become a premier park for the City of New York. The Fountains of the Continents and Fountains of the Fairs have been restored. Unisphere has been designated a Landmark and has undergone restoration as well. The park is alive with the voices of laughter and enjoyment.