Source: The Wall Street Journal, Tuesday, August 31, 1965
---
BARGAINS
The Great Souvenir Sale
Time Magazine, October 8, 1965
WHERE CAN A bargain hunter buy three live elk for $500 each, a small-scale Mississippi paddle-wheeler for $7,500, or a connoisseur's collection of African voodoo drums and five-foot spears? Answer: at the New York World's Fair, where the greatest sale of surplus goods since the big postwar auctions of military gear is about to take place. As the Oct. 17 closing date approaches, the selloff by the Fair's 300 exhibitors is beginning in earnest.
American Machine & Foundry has several bidders for its seven-train monorail, which cost $5,500,000 to erect but will go for about $1,000,000. For $5,000 each, Greyhound has already sold all 62 of its 54-passenger glider trains to 29 buyers, including Mack Trucks, the University of Connecticut, several amusement parks and the city of Stamford, Conn. Borden Co. will pay about $35,000 to the Wisconsin pavilion for the world's largest cheese, a 34,591-lb., 14 1/2-ft.-long cheddar, which the company plans to haul in a refrigerated "cheesemobile" and display around the U.S. To their employees, Ford will sell most of its cars, Du Pont its furniture and RCA its color TV sets -- at substantial markdowns.
Sari to Go. Most of the exhibitors would like to sell just about everything, intend to offer their goods either at auction or for a fixed or negotiated price. There are so many possibilities for the general public that a New York City adman, George E. Procell, 25, has put together an 80-page catalogue of merchandise, already has orders for 8,000 copies at $2 each. for art collectors, The Spanish pavilion has listed a 47-inch, 16th century painted wood sculpture of the Virgin for $11,590, and the Philippine pavilion is offering to the highest bidder twelve hand-carved panels that depict Philippine history and took 30 workmen more than a year to make. The Philippines also want to dispose of a 70-ft.-high Oriental-style restaurant, and Guinea wants to get rid of its voodoo tom-toms, native spears and a 40-ton air conditioner (all for the best offer).
Pakistan is offering saris for $15 to $45 and 17 tall cedars (for the best offer). Israel is marketing fur coats, and Ireland is selling lace and sweaters (highest bids). Thailand wants to sell its temple-like pavilion. Montana wants to sell a 300-ft.-long boardwalk, a 56-ft.-long public lavatory, and its live elk. Florida is asking $50,000 for Smokey, a porpoise trained to spit out fires and play basketball. Dozens of companies are selling computers, typewriters, video tape recorders and other equipment.
Some of the goodies will be given away. Equitable Life will donate its furniture to a school for crippled children, and Coca-Cola will send its electronically croaking bullfrog to Caroline Kennedy, who said she wanted it. Many of the buildings have been offered free to anyone willing to take them apart and put them together again. The Cockaigne Ski Center near Jamestown, N.Y., paid a token $3,000 for Austria's handsome Alpine-style pavilion, but will have to spend about $190,000 to transport and reassemble it. the Christian Science pavilion will be shipped 4,650 miles via the Panama Canal to Poway, Calif., where it will become a church. Cost: $79,000.
Journey to Disneyland. Many of the most popular displays will be used elsewhere by their owners. Though wreckers will get the Johnson's Wax pavilion, the company intends to continue showing its splendid film, To Be Alive, perhaps at its Racine headquarters. Walt Disney will take back his electronic, talking Abe Lincoln from the Illinois pavilion, his moving cavemen from Ford, and his thousands of gay puppets from Pepsi-Cola's lively "Small World"; all will probably appear in Disneyland. Though the Fair's wax museum has optioned its four mop-topped Beatles to a Cleveland customer for $6,000, it will simply shift some other figures to Broadway. There Charles de Gaulle will show up in the permanent display at Ripley's Believe it or Not.
---
New York City adman, George E. Procell's 80-page catalog of merchandise available from the Fair, courtesy of Craig Bavaro.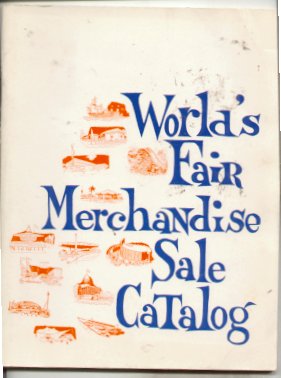 From the catalog...
The publisher and editor wish the reader success in finding and purchasing his heart's desire, whether it be a carousel, an elk or an elephant-foot stool.
---
S-12 / 65 EXTRA LARGE SILENT 16mm FILM PROJECTORS, made up of the following components:

Xenosol II lamp housing type 23-23
Norelco projection heads - 16mm - silent type 101659
Knitron 230V-10 amp. rectifiers

Continuous loop film feeder suitable for use in creating various theatrical backdrops.

Bell Telephone Pavilion

9AM-5PM

After Fair

9AM - 5PM

$4000 /Best offer each
S-15 / CASTLE- 50' x 30' x 20' strn steel construction fiberglass stone exterior. Two turrets-steel frame. Can be dismantled and re-erected in sections.

Santa Maria Pavilion

9AM-11PM

After Fair

9AM-5PM

$75000 / $25000
No. B-7 / One PUBLIC RESTROOM BUILDING, 16' X 56', 6 rooms and full length hall complete with showers. Log sided, flat roof, prefab, easily dismantled, natural finish exterior, 4' panels.

Montana Pavilion

9AM-5PM

After Fair

by Appointment

- / $2000

MAJOR INDUSTRIAL EXHIBIT:

This unusual pavilion contains a redwood garage, large redwood flower boxes, gazebos, aviaries, two small glass buildings 10' x 6' x 10', clocks, clear plexiglass, and a most unusual bleacher arrangement that can lift 500 people into the upstairs theatre. The wall is worked by compressed air.

PRICES ... ARE OPEN TO BIDS.
S-2 / 3 ELK, one two-year-old heifer, one three-year-old cow, one four-year-old bull, captured at Bison Range in Montana by the Montana Fish and Game Commission. These elk are all in excellent health and good physical condition. If you're proud of your front lawn, why settle for a ceramic deer?

Montana Pavilion

9AM-5PM

After Fair

by Appointment

- /$500 each
---
The World's Biggest Rummage Sale

Porcell isn't the only salesman on the lot. The demolition companies that moved in the moment the gates closed at midnight Sunday are in the selling business, too. The demolition men bid on wrecking jobs on the basis of how much they can salvage for sale. If they're very lucky they may sell the building intact to be reerected elsewhere. If not, they will try to sell it brick-by-brick.

"We try to create a purpose for every item," explained Harry Avirom, Eastern district managing director for the Kaiser-Nelson Steel & Salvage Corp. "We just sold the Parker Pen building -- one of the 25 pavilions we contracted to demolish -- to a plastic surgeon who wants to put it up as a summer home out on Montauk Point."

"We have a huge list of requests from people who want to buy things from us," Avirom said. "A woman wrote that she wants one of the gazebos from the IBM building to use as a cage for beautiful plumed birds. Jean Dalrymple, the theatre producer, asked if she could have some of the white birch trees

from the New England exhibit to replant on her country estate. A man bought the rough log fence around the Avis exhibit to use on his property. The stone wall of the Irish pavilion is being bought for flagstone walks."

On Wrecker's List

Avirom said Kaiser-Nelson is low-bidder on both the Spanish pavilion and the Federal building if it is decided that these beautiful buildings are to be demolished. Private negotiations are going on to retain the $11.5 million Federal building as a school for dropouts, but neither building is on the preliminary list of Fair buildings to be preserved.

A special committee appointed by Mayor Robert F. Wagner designated only 19 structures to be retained as part of a proposed Flushing Meadow park. Among them are the Unisphere, the Singer Bowl, the heliport, the Hall of Science, the marina the U.S. Rubber ferris wheel and three holdover buildings from the 1939-40 World's Fair.

The Monorail, one of the big attractions of the 1964-65 Fair, is still on the market. The Lipsett wrecking company is asking $1 million for the aerial railroad which American Machine & Foundry Company spent $5.5 million to build.

"We've been negotiating with several prospective buyers," a spokesman for Lipsett said. "One city is thinking of using the Monorail to transport visitors from downtown hotels to a new convention hall. another town is considering using it to shuttle people from a parking area to a sports arena. We've had other inquires from Japan, from colleges and from large industrial firms.

Lipset also is dismantling the General Motors pavilion, the most popular attraction at the Fair. The famous Futurama Ride, which drew thousands of visitors, is being destroyed. "It cost GM about $5 million to design and build that ride," the Lipsett spokesman said,

The Monorail, built by American Machine & Foundry for $5.5 million, is bargain-priced at $1 million.

"and they don't want some fair out in Nebraska getting hold of it and capitalizing on their idea."

Before Kaiser-Nelson wrecks the Hollywood pavilion, the celebrities who left the imprint of their feet, hands and other identifying symbols in the cement courtyard will be asked to claim their paving blocks as a souvenir. If they don't, the concrete autographs will be offered free to their adoring fans.

A girl from Long Island has her order in already. She wants Liberace's signature and candelabra symbol.

Play that on your piano.
Source: Sunday News, October 24, 1965
---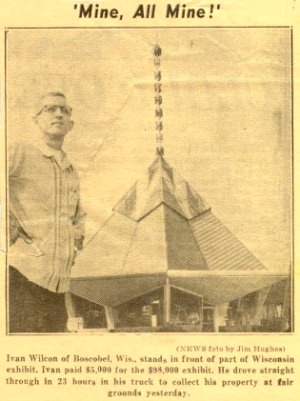 Source: New York Daily News, Friday October 22, 1965