G. Marion Sadler (left), vice president and general manager of American Airlines, is shown presenting Thomas J. Deegan, Jr., chairman of the Fair's Executive Committee, with a $101,000 check and the agreement committing American Airlines to sell a million or more World's Fair tickets during the two-year life of the Fair.

Of all the airlines to jump on the World's Fair Bandwagon, American promoted the Fair most in terms of how American could benefit the Fairgoer. They were represented at the Fair by an information and ticket office located in the American Express Pavilion.

It is interesting to study American's timetable in effect just days after the opening of the Fair. The Unisphere is nowhere to be seen. Rather, American promotes the Fair as a part of a total vacation package in New York and spends more time talking about the other sights of the city then the Fair.

Typical 1964 round trip Astrojet fares on American averaged $166 Coach and $212 First Class between New York and Dallas, $257 Coach and $330 First Class to Phoenix and $290 Coach and $373 First Class between New York and San Francisco.
Answers to questions you

may want to ask when you go to

New York for the World's Fair.

Q. How much does a double room cost at a first-rate hotel?

A. From $14 to $26.

Q. Can American Airlines make arrangements for my stay in New York?

A. Yes. American has a wide variety of package programs, ranging from $15.50 for two nights to $145.00 for six nights (per person). Call American or see your travel agent for details.

Q. How much does a typical sight seeing tour of New York City cost?

A. About $3.75. And you'll see the Washington Market, the Fulton Fish Market, Chinatown, the Bowery, the Empire State Building, United Nations Headquarters, Rockefeller Center. The Stock Exchange and lots more. Or you can take a boat ride around Manhattan Island for $2.50.

Q. How much is a taxi to the Fair from a hotel in mid-town Manhattan?

A. About $3. But a 15c subway token will get you there as quickly.

Q. Where is one of the best places to see the famous N.Y. skyline?

A. From the Staten Island Ferry. And the ride is only a nickel.

Q. My husband and I, our 15-year-old boy and our 11-year-old daughter would like to fly to the World's Fair. Can we get any kind of discount by taking one of your planes?

A. Yes. We have a new family plan for coach travel. When a family travels from noon Mondays to 6 a.m. Friday, the husband pays the full coach fare, the wife gets 25% off. All children 12 through 21 also get 25% off. Children under 12 fly for 50% off. And a child under 2 can fly free. (Discounts for children under 12 apply every day in the week.) The same discounts apply when you take your family first class. (If mother travels as head of the family, she pays the regular fare and the children get the full discount.)

Q. How much is a horse-and-buggy ride through Central Park?

A. $5 for the first half hour and $2 for

each additional half hour.

Q. Can I make arrangements to see a Broadway show?

A. Yes. Tickets can be obtained in connection with the many package tours offered by American Airlines.

Q. Where can I get more information about the New York World's Fair?

A. Stop in at any American Airlines ticket office for a free descriptive booklet. Or see your travel agent for a copy.

Q. What's the advantage of flying an American Airlines jet to the Fair?

A. All of our jets are equipped with fan-jet engines. They're 30% more powerful than ordinary jets. We call them Astrojets. And American has conveniently scheduled non-stop flights to New York throughout the day.

SOURCE: American Airlines timetable, April, 1964, Bob Esler Collection

SOURCE: Top Photo: NY World's Fair Progress Report #8, April 22, 1963
There's no Escaping the Fair on American Airlines!

The Fair was everywhere on American. Even a trip to the lavatory or an inflight meal served as an opportunity to advertise the event as this packaged Wash'n Dri moist towelette shows!

Today, America's airlines are retiring the venerable Boeing 727 tri-jet from their fleets at a rapid pace as newer, quieter, more efficient aircraft take its place. In 1964, everyone wanted to ride this sleek new jet with its rocket fast takeoff. The 727 was designed to operate from mid-sized airports and that meant pure jet travel was now available to more and more travelers. A quick look at that April timetable shows American Airlines was operating their first and only 727 on the New York, Chicago, Dallas roundtrip run. Fly to the Fair on American's new 727 Astrojet!
American published this 68 page mini-guide to the Fair, available to customers through American ticket offices and travel agents. It contains good descriptions of nearly every pavilion at the Fair along with information on things to see and do in New York and, of course, the several pages touting American as the way to go to the Fair.

American Airlines poster advertises the Fair

Fly ASTROJET To The Fair

Make this a New York World's Fair vacation . . . a combination of an exciting and glamorous city and the largest Fair this world has ever known. You owe yourself this memorable experience. And it is so easy when you fly American Airlines Astrojet.

Every American Airlines Astrojet is a fan-jet -- 30% more powerful than ordinary jets. They take off faster, climb faster, and have greater reserve power to help get you there on time. Dependability, comfort and superb service are hallmarks of American's service. That's why experienced air travelers fly American.
SOURCE: American Airlines World's Fair promotional booklet
Come to the Fair -

See New York, too

Don't Waste a

Minute - FLY!

Even with all the time in the world, you'd want to fly to New York. But with so much to see and do in a few days, only flying makes sense. Flying, you spend practically all your time there ... travel in cool comfort, arrive fresh - ready for the excitement waiting.

And what excitement there is! At the Fair, the fabulous Unisphere rising 120 feet above its broad reflecting pool...breath-taking architecture of one pavilion after another, housing the finest examples of industrial production, scientific discoveries and inventions...fascinating exhibits from the nations of the world and our own states. Stroll tree-shaded malls around cool pools, rest beside sparking fountains. See the latest in transportation, the finest in amusements and entertainment.

After the Fair -- or before -- take in glamorous New York City, Visit famous nightclubs...the theatre...museums...cathedrals. From the Empire State building, look down upon the jeweled pattern of Manhattan...tour United Nations buildings...broadcasting stations, Chinatown, Harlem, fabulous stores.

Plan your trip now -- and for reservations call our airline office or the Travel Agent listed on back of this folder.
SOURCE: American Airlines Travel Agent brochure
Periodical advertisement by American reminding readers that the 1965 Season would be the Fair's last.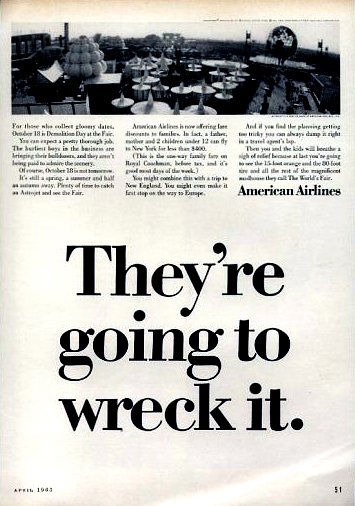 SOURCE: online Auction